In the obituary published by the Journal des débats in October 1867, Guizot said of Achille de Daunant that "for over sixty years, he has been one of my dearest, closest and most faithful friends." This triple qualification, which he rarely gave, explains why Guizot included this notice in his book Mélanges biographiques et littéraires, published the following year.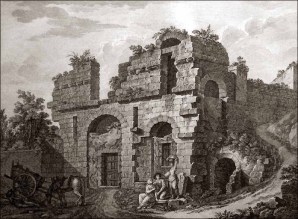 Apart from Barante, Daunant is the only friend of Guizot's mentioned in it. This relationship dated back even further than the two protagonists, as the Daunant and Guizot families, both Protestant and of ancient Nîmois descent, had been close well before their birth. Achille was born on January 1, 1786, the elder of four children whose father was Mayor of Nîmes during the Empire, thus obtaining the title of Baron that was passed on to his son. It was in 1806 that Guizot really got to know him when they were both studying law. Daunant carried on his law studies that led to a career as a magistrate, spent entirely in the Nîmes Court of Appeal where he became successively a Hearing officer, a Councillor in 1818 and President in 1833. This youthful friendship was strengthened by political ties. A liberal Deputy in the Gard from 1827 to 1837, during the July Monarchy he became a member of the conservative party of which Guizot became one of the leaders, and his friend facilitated his entry into the Chamber of Peers.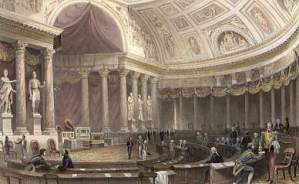 He was also the head of the Protestant political network in the Gard of which Guizot was a strong supporter. The 1848 revolution meant that he also had to withdraw from his functions, including resigning from his position of President of the Appeal Court. During these years, Guizot wrote "the establishment of liberty amidst order, the respect of all men's personal rights as well as of all legal powers, these have been the basis of M. de Daunant's thinking, his constant rule of conduct". Misfortune also brought them together, as Daunant lost Henri,
"an excellent son, already a Magistrate and his dearest hope", who died at the age of 28 and whose education Guizot had taken charge of in Paris. In 1851, he then lost his wife to whom he had been married since 1813, Rose Gardiès, and both his younger sisters Rosalie and Laure de Gasparin predeceased him. With his daughters Pauline de Castelnau and Julie Colomb, he was often a guest at Val-Richer where family ties were nurtured, and when Guillaume was married in Nîmes in 1860, it was naturally in Daunant's house that Guizot stayed. "Your brother is a real brother to me", Guizot wrote to Laure de Daunant-Gasparin at that time.
Daunant, author of an essay on Saint Simon and his times in 1855 and a study on the Templers' trial in 1863, an active member of the Gard academy of which Guizot had become a member in 1807 and permanent honorary President in 1859, lived the life of a rich, retired gentleman who was influential and even popular, it would seem, for he was, Guizot again wrote, "a friend of the poor and patron of the weak", generous towards the Reformed church and charitable institutions. Guizot had immense confidence in his judgement and his total honesty. Baron Achille de Daunant, well respected by all who knew him, died on September 21, 1867. Until today, we have only a very few extracts of the many letters exchanged between Daunant and Guizot mentioning political questions, Protestant matters and family news. In a letter written on May 2, 1860, Guizot wrote: "My long life has taught me that of all the many satisfactions in this world, none are as valuable as a true friendship. You have certainly given me that in abundance. I will not thank you for it but still benefit from it and will continue to do so for as long as God leaves us together on this earth."
In conjunction with this exceptional friendship, Guizot's affection for Achille de Daunant's younger brother Paradès was barely less intense and in 1841, he made the latter a "very good and very stout Prefect" of the Loire region. Paradès was born in 1797 and died the same year as Guizot. He had three daughters by his wife Isaure Delpuech, Pauline, whom Guizot was particularly fond of, Henriette, a great friend of Henriette Guizot, dying in 1849 and Marie, who died from illness in 1858. They also had a rather sickly son, Auguste, who he felt very sorry for and who sometimes stayed with him in Paris until his premature death in 1863. "I love and have great esteem for Paradès (…) He is always so good and so sincere", Guizot wrote to his sister Laure.