When Eliza Marguerite Andrée Dillon married François Guizot on November 8, 1828 in the Church of the Oratory and the Madeleine Church in Paris, the least we can say is that she knew what she was going in to. Born in 1804, she was only eight years old when her husband-to-be became her uncle following his marriage to her aunt, Pauline de Meulan. This uncle became very close to her as she had lost her own father in 1807. Eliza was the eldest daughter of Henriette de Meulan, two years younger than her sister Pauline, and Jacques de la Croix Dillon, a hydraulic engineer of Irish descent who taught at the Ecole Centrale and made a name for himself by building the Pont des Arts bridge in Paris. In 1814, Henriette Dillon married the Prefect Jean-Marie Devaines, whose family had close ties with the Meulan family since the end of the Ancien Régime. They had a son, Maurice, in 1815, born in the same year as François Guizot the younger. If one adds that Eliza had a younger sister, also named Pauline, with whom she was as close as her mother had been with her own sister, and as everyone lived more or less under the same roof, it can be seen that Guizot, widowed since August 1827, did not go very far to look for a new wife.
In the minds of the Meulan family, still firmly anchored in the XVIIIth century, Eliza and her sister Pauline, who in 1831 shall become Mme Decourt, had received an excellent moral, intellectual and artistic education. The more gifted elder daughter had profited most from these opportunities, which she soon put into practice when, in 1823 on the death of her mother, she took charge of her step-father Devaines' and half-brother Maurice's household, living in the same house as the Guizot family, rue Saint-Dominique. She was at that time very taken with Charles de Rémusat,
but he was never aware of this and on the contrary, in his Memoirs, paints a somewhat contrasting picture of her at that time: "We admired her greatly in her family and tried very hard to find her pretty. She really was someone extremely gifted at learning. Her learning facilities, her memory, her quick thinking, her aptitude for work were remarkable". So rue St Dominique, she became a sort of attraction for the young people Guizot frequented, and also charmed the less young, such as Claude Fauriel, who looked on her with great fondness. When her aunt contracted the illness from which she would finally die, Eliza became the mistress of the household and remained so after her aunt's death, learning to deal with the somewhat difficult Mme Guizot, François' mother. She also more than helped her uncle in preparing his lectures at the Sorbonne, which had begun again in 1828, and in writing articles for the Revue Française, founded by Guizot in January of the same year. An avid reader herself, she was mainly responsible for the book reviews.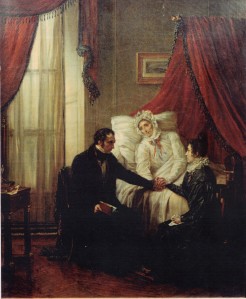 "Eliza was Pauline in her youth", Guizot would later write. Even though it is highly unlikely that on her death bed, Pauline de Meulan symbolically placed Eliza's hand in his, Guizot decided nine months later that the young woman whom he had lived alongside for such a long time had all the qualities he desired. A mutual passion developed between them, consummated on June 23, 1828. Their marriage followed in November, bringing some money to Guizot, particularly the house in the rue de La Ville-L'Evêque, which became their home. He was very happy, far more in fact than described by Rémusat: "She was even-tempered, she loved him and was very proud of him. As for him, he loved her in a somewhat fatuitous way that could be found amusing, but was combined with genuine affection". As was always the case with Guizot, this happiness was expressed by a constant and emotional correspondence during what was the most successful period of his life: the figure head of the opposition at the end of Charles X' reign, Deputy for Calvados, a major participant in the revolution of 1830, Minister, all within the space of five years. Eliza delighted in his successes which she shared with him, and devoted herself to everyone, firstly to her daughters Henriette and Pauline, born in 1829 and 1831, but also to her now famous husband's friends and acquaintances.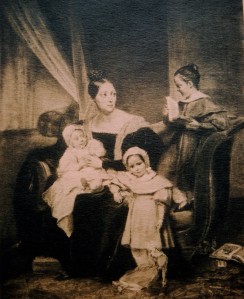 She did many good works, especially during the cholera epidemic of 1832. The son that she was expecting was born on January 11, 1833 watched over tenderly by his half-brother François and Mme Guizot, his grandmother. Six weeks later, Eliza was struck down by a puerperal fever and began to lose her mind, which had been previously so active and intelligent. She died during the night of March 11. "On March the 12th, I wrapped her myself in her shroud. On Wednesday the 13th, at 3 o'clock, I arranged it and laid her in her coffin. No-one saw her after me." Had Guizot recovered from Pauline's death? He was certainly inconsolable after the death of Eliza. She was young, intelligent and good, he found her beautiful, he had lost everything.
On June 19, the Prefect of the department of Deux-Sèvres sent Guizot a poem in memory of Eliza that had been written by Elise Moreau, eighteen years of age:
"God of goodness, why call back from the earth

She who promised so many days of happiness

To her tender husband, the happy father

Her death has broken his heart"